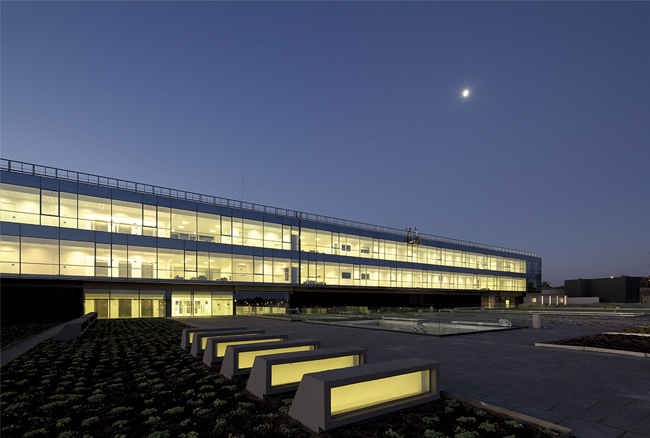 SANJOSE's top management members, aware of the importance of R&D&I on the competitiveness and success of the Business Group, have acquired a commitment to enhance brainstorming and innovative practices, laying the foundations for strengthening competitiveness and technological surveillance.
>
R&D&I policy
In order to facilitate the detection of opportunities, generating innovative ideas and the development of R&D activities, a R&D Management System following the guidelines set out in the standard UNE 166002 and having obtained the AENOR recognition through certification in the following companies has been implemented:
> CONSTRUCTORA SAN JOSÉ S.A.
Certificate: R+D+i | Number: IDI-0056/2010
We focus innovation mainly to activities related to clients. R&D&I efforts focus, among other, on:
Innovative technologies applicable to the execution of works, which improve productivity rates and solve out any technical problems.
To improve the durability and safety of construction works
To improve the performance of traditional materials.
Renewable energy and energy efficiency
Industrial automatation and maintenance of facilities
Design and development of software
Preservation of the environment
Detailed attention to Occupational Risk Prevention policies.
Within the technology field, and for information purposes only, the following projects are detailed:
Fixed and automatic system for the detection and dissipation of fog by precipitation through hygroscopic agents. The project has been developed by Constructora San José S.A. and is supported by CDTI, which is co-financed by the European Regional Development Fund (ERDF) through the Multi-Regional Operational Programme for Intelligent Growth.
Analysis of structural behavior in road pavements.
Experimental study of high performance concrete and improved concrete.
Experimental study of high performance concrete and improved concrete.
Acoustic insulation systems for working sites.
Action protocols for blasting close to transport means and structures.
Monitoring systems for tensioning cables.
Analysis and development of new vegetable species for urban gardens.
Efficient thermal and PV solar plants minimising the environmental impact.
Development of new energy efficient systems for sustainable buildings.
New anchoring systems for facades.